There are several ways of getting to Darjeeling: by Air, by Road, by Train; or a combination of these modes of transport. The "gateways" to Darjeeling are: i. Bagdogra Airport, ii. NJP Railway Station (New Jalpaiguri Railway Station).
Both these terminus points are in close proximity, at the foothills of Darjeeling, and almost equidistant from Darjeeling.
Most foreign travellers fly into Bagdogra Airport from either Delhi or Kolkata (Calcutta), on their way to Darjeeling. They hire taxis at the airport to take them to Darjeeling. The road journey to Darjeeling usually takes about 2.5 hours.
Some visitors arriving at Bagdogra by Air prefer to travel by the Darjeeling Himalayan Railway (DHR) to Darjeeling. This requires that they go by taxi from Bagdogra Airport to NJP Railway Station, a 45 minute road trip, from where they may take the train to Darjeeling early the next day. An overnight stay at a local hotel is necessitated because the flight arrival times at Bagdogra are not compatible with the DHR travel schedule.
There are other travellers with leisure time at their disposal or with a special interest in railways, who choose to take the overnight train of the North-East Frontier Railway, from Kolkata to NJP Railway Station. From there, the next morning, they take the Darjeeling Himalayan Railway (the "Toy Train") from NJP Railway Station to Darjeeling. Still others, who have travelled from Kolkata to NJP Railway Station by train, hire a taxi to take them to Darjeeling. The train journey from NJP Railway Station to Darjeeling takes approximately 7.5 hours; the taxi trip approximately 3 hours. Taxis are readily available at the railway station.
Travelling to Darjeeling
To sum up: You can get to Darjeeling by Air, by Road, or by Train.
By Air: Bagdogra Airport is 93 Km. (58 miles), and 2.5 hours by road from Darjeeling. Bagdogra is 2 hours by air from Delhi, and 50 minutes by air from Kolkata.
The following airlines operate flights to and from Bagdogra, and allow on-line bookings:
Jet Airways : www.jetairways.com
Air India : www.airIndia.com
Spice Jet : www.spicejet.com
GoAir : www.goair.in
Drukair : www.drukair.com.bt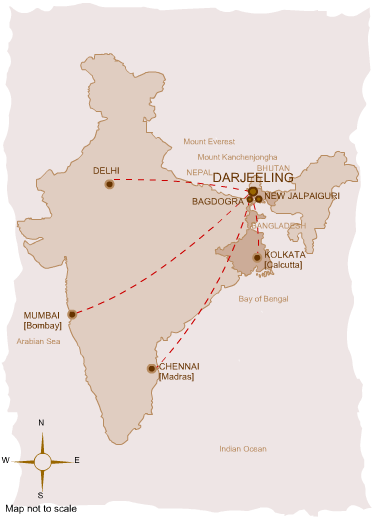 By Road: Darjeeling is 2.5 hours by car from Bagdogra Airport, and is 3 hours from NJP Railway Station. The road to Darjeeling offers breathtaking views of earth, water and sky, as the car ascends from near sea-level to an altitude of about 7,500 feet (2,286 Metres) at The Windamere in Darjeeling, within sight of the rooftop of the world.
By Train: The most comprehensive, and best guide to travel on the Darjeeling Himalayan Railway (DHR) is provided on the website of the Darjeeling Himalayan Railway Society www.dhrs.org.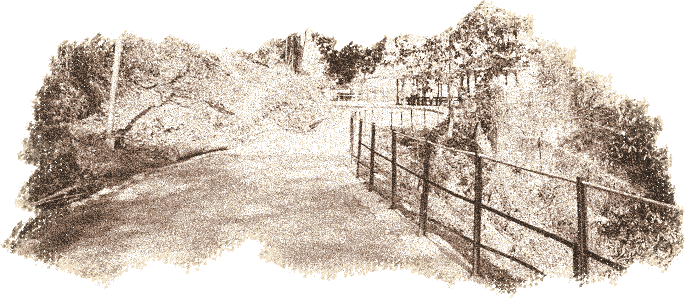 Visitors may also travel to Darjeeling from the NJP Railway Station near Bagdogra, by the Darjeeling Himalayan Railway (the "Toy Train"). This famous scenic journey takes around 7.5 hours. The Indian Railways offer comprehensive reservation information, and an online booking facility, on their website : www.indianrail.gov.in